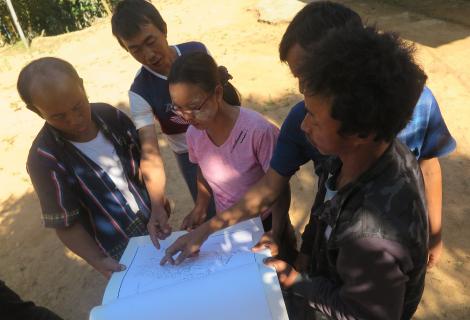 Written by December Khaing, Communications Coordinator

Daw Mya is a mother of two children living in Kan Hla village and is one of the many women who
attended training by Shwe Kanbawza, a CSO partner of the ECCSO project. The women in Kan Hla
do not normally participate in town meetings, let alone trainings. Men usually work outside the house
while women are alone responsible for all household activities, which leaves them little to no time at
all to participate in other matters.

"I think women go unnoticed because of the unpaid care work" explains Daw Mya. "To do so
much unpaid care work is one of the reasons why women cannot participate nor lead in activities
that will increase their capacity and make themselves more resilient."
 The ultimate aim of this training was to build women's confidence and leadership skills, in order to engage more in village politics and claim services from government departments. However, the training focused on giving women a better understanding of laws and regulations on land and property rights. The training included gendersensitive
approaches and encouraged increased participation by both men and women in discussing and addressing issues relating to gender within their community. "Through Shwe Kanbawza's training, my life has changed," said
Daw Mya.   
Another former training participant added that she particularly valued learning about women's rights
in relation to land ownership. "[Following the training] I went to participate in a village meeting for
the first time. The biggest challenge for me was to be able to speak up about what was needed in our
village." Other women also started attending village meetings and speaking out about their priorities
and concerns. Men seemed to be open to women's participation and more willing to listen to their
views. Women recognised the importance of their participation in village activities and decisionmaking.
When asked what changes they wanted to see in their village the women's response included
the desire for female leaders, for awareness-raising on gender issues and more widespread training on
land rights.

Daw Mya herself rose to the challenge. She nominated and was elected a 10-household leader, the
first in her village. While this might not sound a lot, it does, in fact, hold great significance in a
community where women rarely venture outside of the house. Becoming a 10-household leader
provides the space for women to share their problems with her and for her to call for these problems
to be addressed. It also provides a platform for addressing violence against women generally in her
village. "I can now recognize my capabilities and can find ways to overcome barriers and empower
other women" asserts Daw Mya. She is now part of a committee leading the land registration process.