Community University of Myanmar's Dry Zone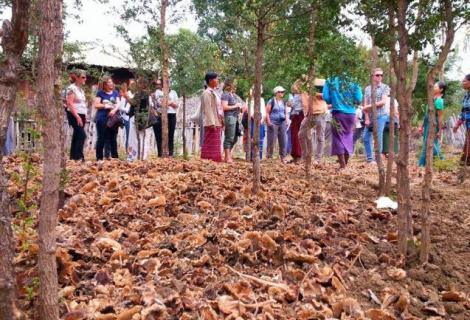 by Thant Zin
Blue skies.A large dam surrounded by a lush forest. Traditional huts made from bamboo and toddy palm word. An organic vegetable garden with ripe tomatoes and fresh herbs.
This was the scene yesterday as students from RMIT University in Australia arrived in Myaing at ActionAid's Community University site.
After checking-in, the students -who are undertaking a mixture of bachelor and masters courses in different disciplines –rode bikes to a local village, Kan Gyi Taw2. At the village, the Mothers Advisory Group, a long-time partner of ActionAid's,warmly welcomed them with a delicious meal of chicken curry, spicy soup, green beans and rice. Another short ride, this time to a Thanakar planation where students had some traditional Thanakar paste applied to their faces.
They then met some of ActionAid's Fellowswho spend 1 - 2 years based in their communities to facilitate bottom-up participatory development. These young women and two menassumed the role of university lecturers taking a class for 21 university educated Australians.
The Fellows explained how through the use of participatory tools, patience, hard work and persistence, they win people's trust, tackle traditional ideas about power, gender and age and grow their own confidence and that of the their village. Key to this process in the development of the village book which includes detailed information, assessment and analysis of life in the village such as strengths and problems, dreams, the differences in the roles of women and men, seasonal growing calendars, social and economic analysis, vulnerabilities, communitypriorities, action plans and much more. The book is used as a baseline but also an advocacy tool.
The RMIT students remarked how these principles of community-led participation, tools and methods could be applied in different contexts in Australia. The Fellows were also interested to hear from the RMIT students who shared their experiences of community development, youth work and social change from Australia.
At the heart of ActionAid's Community University is that education can be transformed from the classroom to the village and that by local youth and villagers become the teachers.