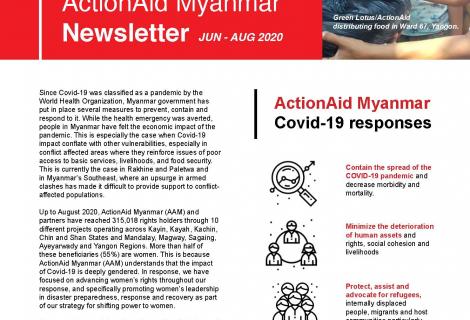 ActionAid Myanmar Newsletter Jun-Aug 2020
AAM Newsletter
Downloads
Since Covid-19 was classified as a pandemic by the
World Health Organization, Myanmar government has
put in place several measures to prevent, contain and
respond to it. While the health emergency was averted,
people in Myanmar have felt the economic impact of the
pandemic. This is especially the case when Covid-19
impact conflate with other vulnerabilities, especially in
conflict affected areas where they reinforce issues of poor
access to basic services, livelihoods, and food security.
This is currently the case in Rakhine and Paletwa and
in Myanmar's Southeast, where an upsurge in armed
clashes has made it difficult to provide support to conflictaffected
populations.