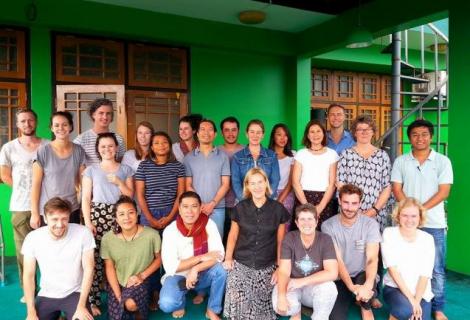 RMIT University Students Participates in the First Official Community University Course in Myanmar's Dry Zone
Today. History in the making. 19 students from RMIT University in Australia are participating in the first official Community University course facilitated by ActionAid Myanmar.
The students who are studying both bachelor and master degrees are from different fields including social work, international development, planning, environment and agriculture and will spend the next 10 days in Myanmar. Starting in Yangon at ActionAid'sGlobal Platform Myanmar, they will then travel to Kanma in Myanmar's Dry Zone and will spend time visiting and learning from local community groups, ActionAid Fellows (young change makers) and villagers.
The Community University challenges traditional notions of education, power and development by empowering local youth, women and communities that ActionAid works with to share their experiences and teach international students about community development, social change and human rights. In turn, the students will be sharing their knowledge, undertaking some research and then applying their learning and insights from Myanmar back in Australia.
As one student from Australia said this morning "I feel humbled to be taking part in such an inspiring and great learning experience".
By Clancy Moore, Manager – Global Platform Myanmar, ActionAid Myanmar.