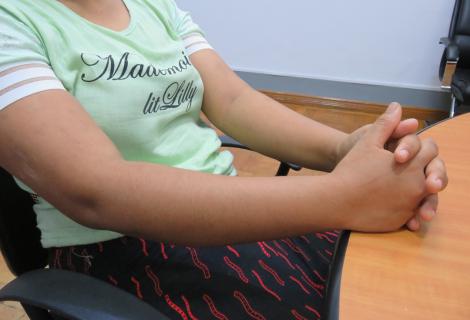 Win Win is 24 years old mother of two daughters. She dropped out of school at the age of 11, and since then she has worked at various factories in Hlaing Thar Yar, Yangon's manufacturing hub, earning under 3 dollars a day. Coupled with rapid change, Hlaing Thar Yar is an area known for issues of poor health and sanitation, weak public services, unsafe living conditions, an increase in incidents of sexual and gender- based violence amid rising crime rates.
After several altercations, including being badly beaten, by her intoxicated neighbour, Win Win found herself being sued for using a weapon in their initial altercation. Win Win got bail and was placed on remand. Faced with potential jail time, Win Win sought the advice of Daw Mway Mway, a paralegal trained by AAM. Win Win learned that she could countersue.
Paralegals are members of the community instructed in basic legal matters, as well as human rights, facilitation skills and issues of gender-based violence. Despite her doubts and low income, Win Win, with help from Daw Mway felt empowered to countersue. Throughout the process, Daw Mway received support from ActionAid to help. During the trial, Win Win joined many awareness activities hosted by ActionAid Myanmar aimed at raising awareness of customary law and gender-based violence.
Win Win went through many challenges including harsh criticism from her community. She said, "I want to be a role model for other women and my daughters". AAM staff supported her throughout this process and provided encouragements to not give up. She said, "I used to be afraid to speak up for myself and for other women. I do not know much, but the little that I know is that my children must be more educated than I am to defend themselves. In a patriarchal society, women are always judged whether they are right or wrong."
After one year of going through many trials, the attacker was finally sentenced to six months jail. This story is one of courage and strength displayed by Win Win and serves as a lesson for all women and men. It shows the importance of fighting against gender-based violence and supporting women to speak out and to continue to strive for gender equality.