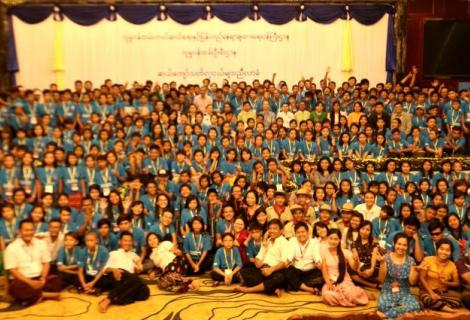 Adolescents Conference Writing a New Page in Myanmar's History
By Yi-Lan Chou and Thant Zin
The first ever national Adolescents Conference in Myanmar is taking place in Nay Pyi Taw with more than 400 adolescent representatives from across the country. Led by Union Ministry of Social Welfare, Relief and Resettlement (MSWRR) in collaboration with UNICEF and ActionAid Myanmar and various civil society organisations, the conference aims to address the challenges and opportunities faced by adolescent groups and encourage their engagement in the current development process of Myanmar. Participants from union government, youth groups, INGOs and local civil society will also contribute to the development of a national youth and adolescent policy, by issuing a joint statement that can guide the policy-making process.
"Adolescence is an age when they are experiencing both mental and physical change in transition to adulthood, and it's also a stage that can be easily influenced, therefore it's the best time to educate them, get them involved in the cultural and social work and support the nation building." said by Dr. Win Myat Aye, Union Minister of Ministry of Social Welfare, Relief and Resettlement (MSWRR). He continued "today's adolescents, tomorrow's adults, the national youth policy will be a collaborative effort from all of you, and I want to encourage adolescents to become future leaders and contribute to the society."
During this conference, adolescents also present the work from other youth-focused organisations, sharing about their areas of work on health, education, entrepreneurship, and innovation sectors. Such exposure to wide range of information and stakeholders will bridge up the link between adolescents and a broader society, building network and creating great impacts.  
Through the participatory discussion, adolescents from different areas and ethnic groups also share about their challenges and issues. It was also an opportunity to identify the priorities that should be addressed in the national youth policy.
Myanmar has a relatively high young population, therefore the full participation of youth and adolescent greatly impact on individuals and society at large. For this reason, their engagement should be central in Myanmar's democratic transition.
"Prosperous development will not happen unless we empower, engage and invest on the adolescents, especially girls and groups that are marginalised by the society" affirmed Shihab Uddin Ahmad, ActionAid Myanmar Country Director. "Short but crucial, the transition to adulthood is such a beautiful and adventurous journey that shapes the world view of a person, who could create great social impact within a short period of time. While if without proper attention, adolescents are often subject to discrimination and negative impact due to social cultural norms or the unequal power relations. To make them go through this journey towards adulthood, we need to address the challenges adolescents face and respond to their needs at the earliest stage of their lives" 
With the commitment from MSWRR to support adolescent engagement, both UNICEF and ActionAid Myanmar as youth-oriented organisations have been working together to create more space for adolescents, enabling them to take part in a wider society and develop their knowledge and skills so they can make positive impacts across the country.
It's expected that through this conference, an adolescent network can be established and key adolescent leaders will be identified to continue the dialogue with stakeholders and move forward their action plans. Furthermore, MSWRR, related ministries and other organisations working with adolescent issues can take this opportunity to incorporate the 400 participants needs and suggestions into their policy making process.